Big Batch: Cheats Chicken Curry
This post may contain affiliate links. Please visit my privacy policy for more details
We would eat curry in our house at least once a week. I swear everyone does a little happy dance if I even mention my cheats chicken curry for dinner.
I love curry. I mean, LOVE curry. However, sometimes I don't want to fry off fifteen spices, make my own ghee, marinate the meat overnight ….. I want curry now. I blame the Irishman. Two years of date night at our local curry house in London made me a complete addict.
My big batch recipes generally feed 6-8 serves. The idea is that one batch will feed 3-4 people 2 nights dinner making them great for time-poor people, batch cooks, or like me, cooking for shift workers.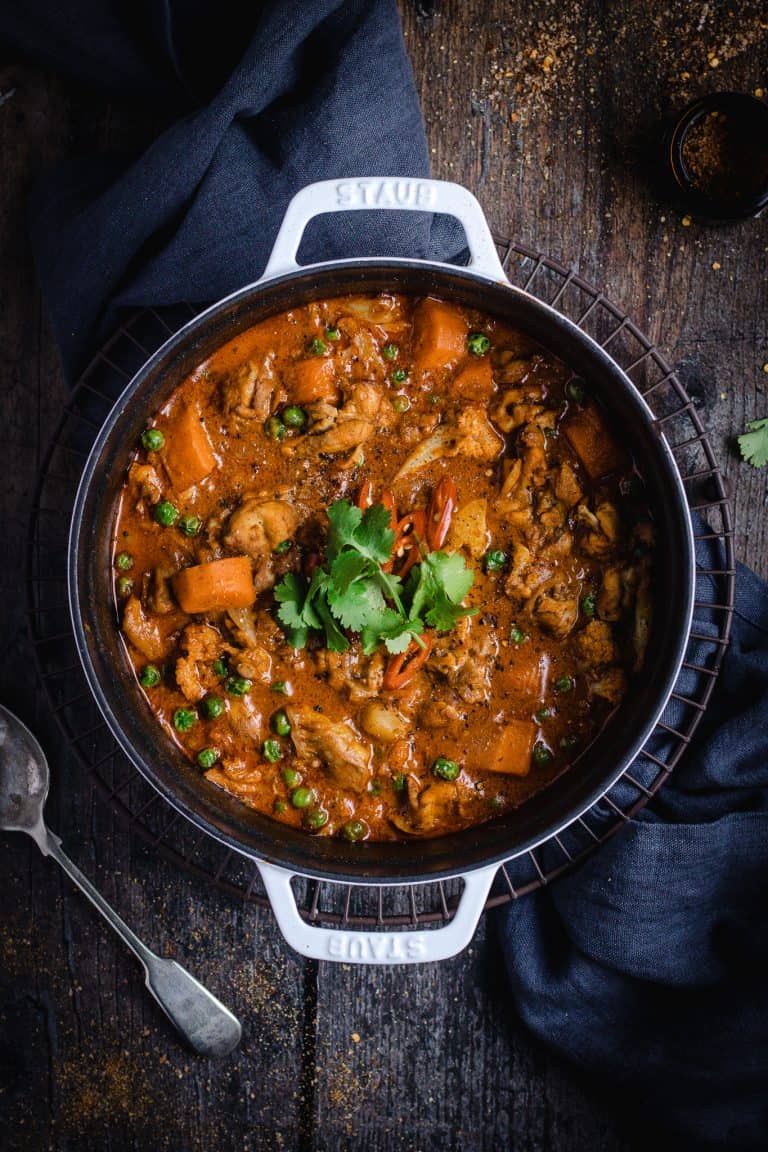 Now, this is not a sponsored post. Just showing a little love for a great, locally made product. Renee from Burtons Lane makes the best, I repeat the BEST, family-friendly curry paste in Millthorpe, NSW. It's easy to use, has no heat whatsoever (so you can serve it to any age), and has so many uses. It makes a mean curried rice salad! You can check out Burton's Lane recipes here for a bit more inspo. This recipe is an easy, chicken curry that tastes delicious that the whole family can enjoy. If you are cooking for someone who isn't a fan of chilli, just omit the chilli powder. I like to add a bit of spice, however, I get that not everyone is like that!
I love a good story…
Renee's family curry paste recipe has been handed down like a beautiful family heirloom from her great-grandparents.
"Life was prosperous for them in India until the great depression hit, then they were forced to walk away from their coffee plantation. No longer able to afford to feed & educate their five children — four of whom had to be sent to an orphanage — they slowly built up a new income delivering home-cooked meals by bicycle. They were soon being asked to make their curry paste and other condiments available to other families, and the end result was a large pickle factory in Bangalore bearing their name and which is still in operation today (although no longer owned by the family). Their success enabled them to bring all their children home" – Renee
What you need to get started
Burtons Lane curry paste – I've tried so many curry pastes in this recipe. However, my family swear this one makes the best curry for the whole family. However feel free to improvise with your favourite curry paste!
Chicken thigh fillets – roughly cut each fillet into 6 -8 pieces
Pantry staples – canned tomatoes, coconut milk, olive oil
Vegetables – carrot, cauliflower, frozen peas, brown onion, garlic, ginger
Chili powder (optional)
The details
Preheat oven to 150°c
In a cast iron pot, saute the onion with the olive oil on low heat until transclucent.
Add the garlic, ginger and chilli powder. Stir to combine with onion for 30 seconds. Add curry paste and stir until fragrant (about 30 seconds)
Add the chicken. Stir to combine and coat the chicken with all the ingredients. Cook for 1 minute. (We are not cooking the chicken completely, but aiming to gently seal it and poach the chicken in the liquid)
Add the tomatoes and coconut milk giving a good stir to everything and incorporating the liquid into the paste. Add the vegetable, again, stiring to combine.
Pop on the lid, and put the pot into the preheated oven for 45minutes. Remove from oven and return the pot to the stovetop.
Add the peas and simmer with the lid off for 10 -15minutes until the sauce thickens.
Serve with steamed rice, nann bread and pappadams
How to rehash cheat's chicken curry for a second night's dinner
I'm a huge fan of cooking one meal and re-hashing it into another night's dinner. I could probably think of half a dozen ways to serve up a good curry, and I'm sure the Irishman would add curry and chips to that list (i don't get it, but apparently it's a thing), but my favourite way is to add some rice to the leftover curry and make wraps out of warm tortillas. Add some English spinach leaves, a little cheese, and a smear of sour cream and roll into a wrap. For a side, I love to bake some homemade sweet potato chips and add a salad.
x
Print
Big Batch: Cheats Chicken Curry
Author:

Prep Time:

30 minutes

Cook Time:

1 hour

Total Time:

1 hour 30 minutes

Yield:

8

people

1

x

Category:

Main Course

Cuisine:

Australian, Indian
---
Description
Sometimes you don't want to fry off fifteen spices, make your own ghee, marinate the meat overnight, just for a good curry. My advice is to find a good curry paste and make it your own. My cheats chicken curry is based on Burton's Lane Curry, my favourite curry paste, made locally in Millthorpe.
---
2 tbsp

olive oil (extra virgin)

1

brown onion (sliced)

3

garlic cloves (crushed)

1/2 tsp

ginger (grated)

1/2 tsp

mild chilli powder ((optional))

6 tbsp

Burtons Lane curry paste (or a mild curry paste)

750

g

chicken thigh fillets

200

g

crushed canned tomatoes

400

g

coconut milk

2

carrots

1/2

small cauliflower

1/2

c

frozen peas
---
Instructions
Preheat oven to 150°c
In a cast iron pot, saute the onion with the olive oil on low heat until transclucent.
Add the garlic, ginger and chilli powder (optional). Stir to combine with onion for 30 seconds. Add curry paste and stir until fragrant (about 30 seconds)
Add the chicken. Stir to combine and coat the chicken with all the ingredients. Cook for 1 minute. (We are not cooking the chicken completely, but aiming to gently seal it and poach the chicken in the liquid)
Add the tomatoes and coconut milk giving a good stir to everything and incorporating the liquid into the paste. Add the vegetable, again, stiring to combine.
Pop on the lid, and put the pot into the preheated oven for 45minutes. Remove from oven and return the pot to the stovetop.
Add the peas and simmer with the lid off for 15minutes until the sauce thickens up a bit.
Serve with steamed rice, nann bread and pappadams
---
Equipment
---
Keywords: Chicken,, Curry